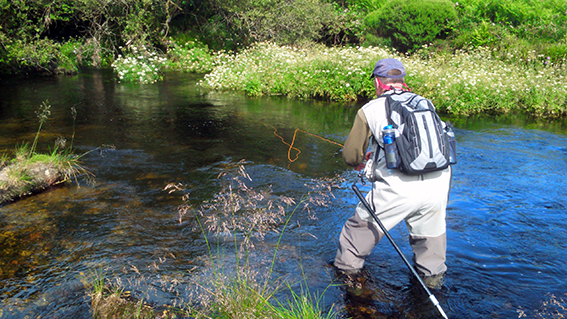 Learn how to Fly Fish on the river for FREE!
If you are interested in learning how to fly fish for trout on the Teign, this might be just for you!
The Upper Teign Fishing Association in association with the River Teign Restoration Project is offering a free half-day introduction to river fly fishing on Sunday 18th July nearby to Chagford starting at 10.00 am.
Topics covered will include a look at insect life in the river that fish and other animals feed on, artificial flies and how we make them, an introduction to the fishing equipment, learning to cast a fly, followed by some actual fishing in the river with an experienced river angler. There will be the opportunity to try and catch a trout.
If you are an angler who has recently taken up fly fishing on rivers and would like to improve or learn some new skills, or if you are a reservoir trout angler thinking of fishing on rivers, this event may also be for you.
Those attending will be taught and accompanied by experienced local anglers under the guidance of a qualified angling coach. All equipment will be provided. A fishing licence will not be required. Further sessions will be held through the summer.
For many years the numbers of Salmon in the River Teign and its tributaries have been in very serious decline. Salmon numbers are an indicator of the health of a river and its ability to support not only salmon but other fish and creatures that live in and alongside the river, such as otters, kingfishers, dragonflies and many mammal species.
The River Teign Restoration Project, funded by the National Heritage Lottery Fund is aimed at raising awareness of the plight of the salmon in the Teign. There are several known reasons for the decline in salmon numbers and two project officers, supported by experts and volunteers will be working to reverse the decline of this iconic species
For further information about the Project and volunteering opportunities please contact Geoff Stephens or Nick Baker via the project website at www.theriverteignrestorationproject.co.uk
For further information and to book a place please contact Geoff Stephens geoffteign@gmail.com